Nina Xiang is the author of Red AI: Victories and Warnings From China's Rise In Artificial Intelligence.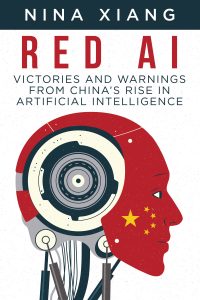 It is the definitive book on one of the most controversial topics of our time. It dispels the myth and hyperbole surrounding China's position in the artificial intelligence race against the United States.
It is the first book based on thorough investigations on the Chinese AI industry with intriguing narratives that shed light on China AI for global policy makers, business and technology professionals.
From facial recognition, surveillance, speech recognition, autonomous driving, robotics, AI chips, healthcare, financial services, and other sectors, the book unveils what is really happening behind the scenes in all these areas.
Selective Writings:
China's self-driving car prowess is greatly exaggerated, Nikkei Asian Review, July 24, 2019
Chinese Unicorn Terminus Combines AI And IoT To Empower Smarter Cities, Forbes, May 5, 2019
A Shenzhen Logistics Robot Startup Shows Why China Is Winning Global Tech Race, China Money Network, April 22, 2019
Chinese Rocket Startup Wants To Achieve SpaceX Success In 50% Less Time Than Elon Musk, China Money Network, February 28, 2019
You can read more of Nina Xiang's writing at: